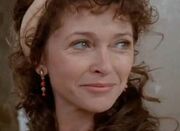 The Duchess of Wharfedale was in Gibraltar when Acting Lieutenant Hornblower was given command of HM Sloop Le Reve to take despatches to Plymouth. Hornblower was given the honor of bearing the Duchess to England. She had fled Florence when the French invaded and made her way to Livorno, known to the English as Leghorn. The Duchess was from the area of London known as the Seven Dials, and was said to be an innkeepers widow.
When the Le Reve inadvertently sailed among a spanish fleet on a foggy night and was captured, Hornblower found out that she was actually the actress Katharine "Kitty" Cobham. Cobham delivered the despatches entrusted to Hornblower to the admiralty while Hornblower was in captivity in Ferrol.
In other media
Edit
The Duchess was portrayed by Cherie Lunghi in the movie Horatio Hornblower: The Duchess and the Devil.
Ad blocker interference detected!
Wikia is a free-to-use site that makes money from advertising. We have a modified experience for viewers using ad blockers

Wikia is not accessible if you've made further modifications. Remove the custom ad blocker rule(s) and the page will load as expected.