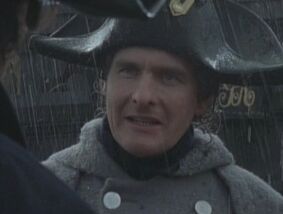 This article is about Lt. Eccleston. You may be looking for Lt. Eccles instead, the character Eccleston is based on.
Eccleston was first Lieutenant of HMS Indefatigable, Captain Sir Edward Pellew commanding.
He was in command of the cutting-out of the Papillon.
When the Papillon came under fire from the shore batteries, Eccleston and Chadd, the second lieutenant, were fatally injured. Before dying, Eccleston placed Horatio Hornblower in command of the Papillon, a fact which upset Jack Simpson.
Appearances
Edit
Ad blocker interference detected!
Wikia is a free-to-use site that makes money from advertising. We have a modified experience for viewers using ad blockers

Wikia is not accessible if you've made further modifications. Remove the custom ad blocker rule(s) and the page will load as expected.