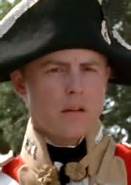 The Earl of Edrington was a Major in command of a half-battalion in the 43rd Foot of the British army at the time of Hornblower's tour aboard HMS Indefatigable as Midshipman. Lord Edrington's forces accompanied French royalist troops underr the Marquis de Pouzauges in an attempt to invade France and depose Napoleon. When the Revolutionaries unexpectedly arrived at Muzillac from the north he organised a successful fighting retreat to the shore to be picked up.
Edrington was portrayed by Samuel West in Hornblower: The Frogs and the Lobsters.
Appearances
Edit
Ad blocker interference detected!
Wikia is a free-to-use site that makes money from advertising. We have a modified experience for viewers using ad blockers

Wikia is not accessible if you've made further modifications. Remove the custom ad blocker rule(s) and the page will load as expected.