Edward Pellew, 1st Viscount Exmouth (born 19 April 1757, Dover, England, died 23 January 1833, Teignmouth, England), was an historic British Naval Officer during the Napoleonic Wars.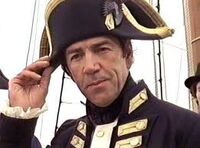 In the Hornblower series, he was first captain, commanding HMS Indefatigable and later Commodore and Admiral. Hornblower was one of his favourite midshipmen and foresaw that he would go far in his career.
Hornblower's Historical Shipmates (2016) by Heather Noel-Smith & Lorna M. Campbell is a history book discussing the careers of 17 real midshipmen who served with Pellew on HMS Indefatigable.
Appearances
Edit
External links
Edit