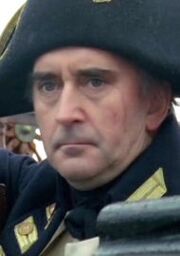 The Novel
Edit
Captain Foster of HMS Dreadnaught sat on the Board of Examination for Hornblower's examination for Lieutenant along with captains Hammond of HMS Calypso, and Harvey of the Gibraltar dockyard). He climbs on board the fireship with Hornblower, is forced to leap back into the sea, is picked up by a small French boat, then recaptured by the boat with the other captains and has an amusing huffy argument with them about their late arrival, hinting that a duel will be fought.
TV series
Edit
Pellew sinks a Spanish supply ship, and picks up Foster, who has a reputation for foolhardy bravery and little regard for human life. Pellew clearly doesn't like him.
Foster later appears about HMS Dreadnaught and offloads supplies and cattle from the quarantined Caroline in Hornblower's absence. Hornblower returns to explain the danger of the plague, but Foster refuses to listen. He then presides over the examination and boards the fireship, is picked up directly by his fellow captains and argues with them.
Appearances
Edit
Ad blocker interference detected!
Wikia is a free-to-use site that makes money from advertising. We have a modified experience for viewers using ad blockers

Wikia is not accessible if you've made further modifications. Remove the custom ad blocker rule(s) and the page will load as expected.