"It's the bloody Indy!"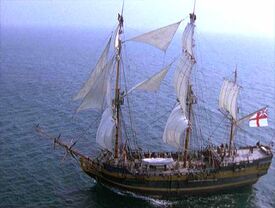 The HMS Indefatigable was a frigate in the Royal Navy commanded by Captain Sir Edward Pellew. Horatio Hornblower served on the Indefatigable, or "Indy", as the crew called her.
In Mr. Midshipman Hornblower (novel), in the chapter entitled 'The Cargo of Rice', the Indefatigable captured a number of ships of a French convoy, including the Marie Galante, which Hornblower was given command, and which subsequently sank a couple of days later.
Indefatigables
Edit
Behind the scenes
Edit
Appearances
Edit
External links
Edit