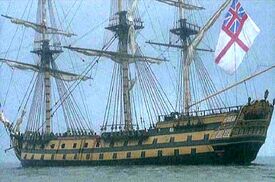 HMS Justinian was a 74-gun 3rd rate ship of the line of the Royal Navy.
The Justinian was a 2nd rate launched on the Thames in 1786 to the design of Sir Thomas Slade. She was an old ship by the time Hornblower came aboard and not a happy one. Captain Keene was a sick man and several of her lieutenants were far too old for active service. The midshipman's mess, Hornblower's new home, was ruled by a bully named Simpson. Simpson, at age thirty-three, had failed his examination for lieutenant too many times to ever expect promotion and he took out his bitterness and disappointment on his juniors. After he fought a duel with Simpson, Hornblower was transferred to another ship by Captain Keene for his own good.
Justinian carried a crew of 590 men and was armed with twenty-eight 32pdr guns, twenty-eight 18pdr guns, and fourteen 9pdr guns.
Appearances
Edit
Ad blocker interference detected!
Wikia is a free-to-use site that makes money from advertising. We have a modified experience for viewers using ad blockers

Wikia is not accessible if you've made further modifications. Remove the custom ad blocker rule(s) and the page will load as expected.