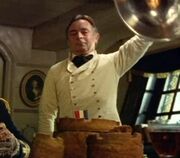 "You're a good steward, Doughty. You cook. And you swim."
―Horatio Hornblower to Doughty
James Doughty was captain's Steward aboard the Hotspur.
In the novels
Edit
In the TV series
Edit
James Doughty made his first appearance as Admiral Sir Edward Pellew's steward. Doughty was assigned to the Hotspur as a "wedding gift" from Sir Edward Pellew, replacing Styles as steward.
Because of this, Styles resented Doughty, and this resentment only grew over time, finally coming to a boiling point as the Hotspur was quarantined to prevent talk of Betsy and Jerome Bonaparte coming out. Styles blamed their bad luck on Doughty, Doughty insulted Styles, and a fight broke out. When Midshipman Orrock tried to break up the fight, Doughty struck out at him.
Doughty was supposed to hang for this, but Hornblower allowed him to escape to the American ship Liberty.
Doughty was portrayed by Ron Cook.
Appearances
Edit