Mrs. Mason ran the Portsmouth boarding house that Hornblower stayed at during his demobilization during the Peace of Amiens.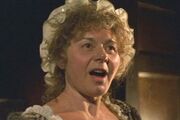 She was a short, brusque woman, with a hard face. She lived in her boarding house on Highbury Street with her daughter, Maria, and maid Susie.
She was delighted when her daughter married a naval officer, and even had an admiral turn up at their wedding.
Mrs. Mason was portrayed by Barbara Flynn in the Hornblower TV series.
Appearances
Edit
Ad blocker interference detected!
Wikia is a free-to-use site that makes money from advertising. We have a modified experience for viewers using ad blockers

Wikia is not accessible if you've made further modifications. Remove the custom ad blocker rule(s) and the page will load as expected.