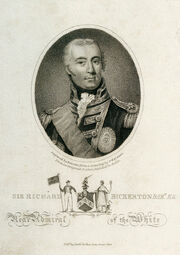 Richard Bickerton (born 11 October 1759, Southampton, England, died 9 February 1832, The Circus, Bath, Southampton, England) the son of Vice-Admiral Sir Richard Bickerton . He married Anne Athill of Antigua on 25 September 1788. He began his naval career on 14 December 1771, being listed as a member of his father's ship, but, actually started by joining HMS Medway in June, 1774 as Captain's servant. 
Historically, Bickerton commanded the squadron off Cádiz in 1800, not the West Indies squadron.
In the novel Lieutenant Hornblower, Admiral Bickerton was the flag officer commanding the West Indies .
Appearances
Edit
External links
Edit
Ad blocker interference detected!
Wikia is a free-to-use site that makes money from advertising. We have a modified experience for viewers using ad blockers

Wikia is not accessible if you've made further modifications. Remove the custom ad blocker rule(s) and the page will load as expected.