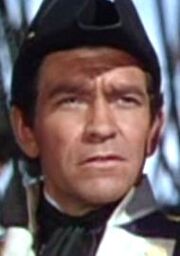 Robert Beatty (born 19 October 1909, Hamilton, Ontario, Canada, died 3 March 1992, London, England) was a Canadian actor who worked in film, television and radio for most of his career and was especially known in the United Kingdom.
He portrayed Hornblower's first officer and best friend, William Bush, in Captain Horatio Hornblower R.N.
External links
Edit
Ad blocker interference detected!
Wikia is a free-to-use site that makes money from advertising. We have a modified experience for viewers using ad blockers

Wikia is not accessible if you've made further modifications. Remove the custom ad blocker rule(s) and the page will load as expected.